5G-Xcast will be actively involved in multiple activities during the 28th edition of European Conference on Networks and Communications, EuCNC 2019, held next 18-21 June in Valencia (Spain). The conference, which is expected to gather large amounts of experts from multiple industries, research centers, universities and business on telecommunications, will be the ideal showcase to present the latest 5G research results, showcase demos, and trials testing from all the European R&D programmes co-financed by European Commission.
EuCNC 2019 will be sponsored by the IEEE Communication Society together with the European Association for Signal Processing and supported by the European Commission. As a novelty, EuCNC 19's edition will be co-located on 17-18 June with the 7th Global 5G Event , which will bring together the world 5G industrial associations such as 5G-IA, IMT-2020, 5G-Forum, 5G-MF, 5G-Brasil and 5G-Americas to discuss the progress on 5G development towards a smart digital future.
5G-Xcast is the first 5G PPP project to focus on the holistic implementation of multicast/broadcast as a key technology element in 5G systems in addition and as a complement to unicast. 5G-Xcast technologies are fundamental to progress towards a converged 5G infrastructure for fixed and mobile accesses, including terrestrial broadcast. The project takes a holistic approach to harmonize the media delivery among the three considered types of networks and to provide an optimised and seamless media user experience.
As part of our contribution to the 5G community in Europe and worldwide, multiple 5G-Xcast partners will be heavily involved in different EuCNC activities like the showcasing of demos, the presentation of project results through conference papers and the participation of our experts in technical workshops. All the related 5G-Xcast activities are specified in the following summary:
Demos  (From Monday 17 – Friday 21 June 2019)
The project will perform five demonstrations at the 5G-Xcast booth plus one additional joint demonstration located at the Sat5G booth.
Booth #1 – 5G-Xcast
"Converged, autonomous MooD in fixed/mobile networks" shows content prepared for unicast distribution being distributed over both fixed and mobile networks with dynamic switching between multicast/broadcast and unicast delivery as the audience size changes. The live and unmodified BT Sport commercial service is integrated using the 5G-Xcast content distribution framework. Partners: BT and Expway.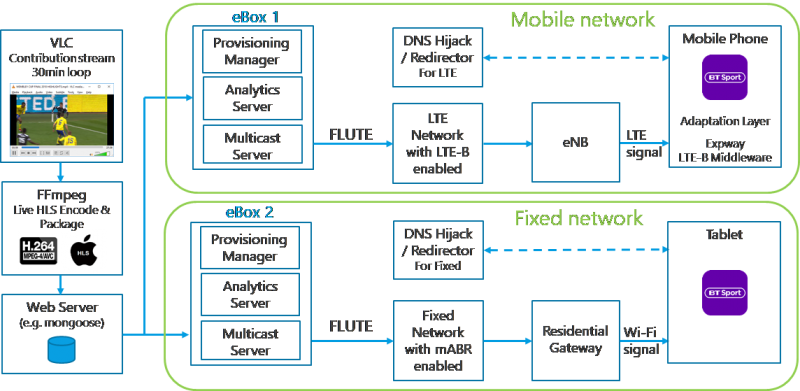 "Forecaster5G: Object-based broadcasting". Content is produced as a set of discrete media objects to be rendered by the end device. Common objects are transmitted using the Dynamic Adaptive Streaming over IP Multicast (DASM) system while personalised content is received via unicast. Partners: British Broadcasting Corporation (BBC), University of Surrey (UNIS).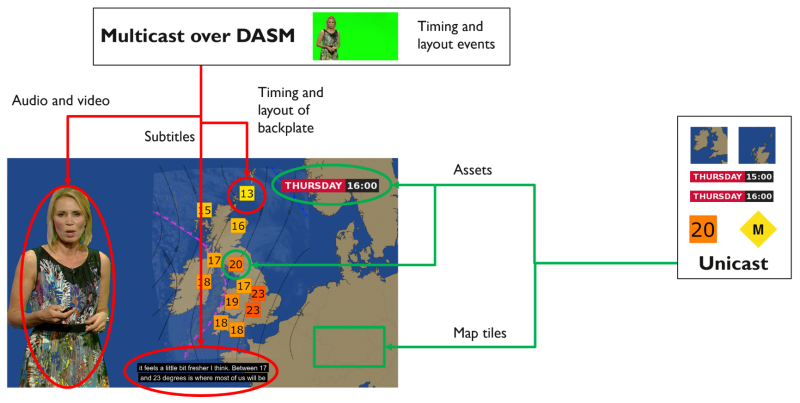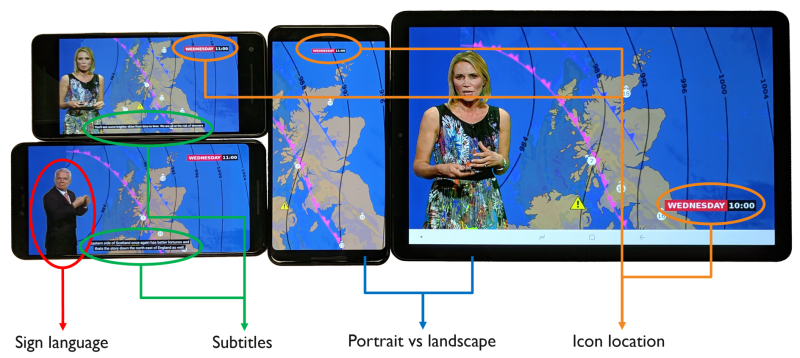 "Multimedia Public Warning" uses dynamic spectrum management to send public warning multimedia alerts to the user equipment. Partners: One2many, LiveU, Fairspectrum, Turku University of Applied Sciences (TUAS), Universitat Politecnica de Valencia (UPV).
"Reliable Multicast Delivery in 5G Networks" shows the gains and trade-offs in resource consumption, spectrum efficiency, service coverage, and quality of experience when multicast is introduced as a network optimization for delivering popular content. The demonstration also highlights the effects of using application layer methods, such as DASH streaming and multilink delivery on the efficiency and reliability of multicast delivery. Partners: Nomor, BT, Broadpeak and Bundleslab.
"Hybrid Broadcast Service with Multi-Link" shows the benefits of splitting and combining content from different networks via LTE and Wi-Fi interfaces, with a seamless switch between them and the ability to increase aggregated throughput via Multi-Link. Partners: Institut Für Rundfunktechnik (IRT), European Broadcasting Union (EBU), Bundleslab, LiveU.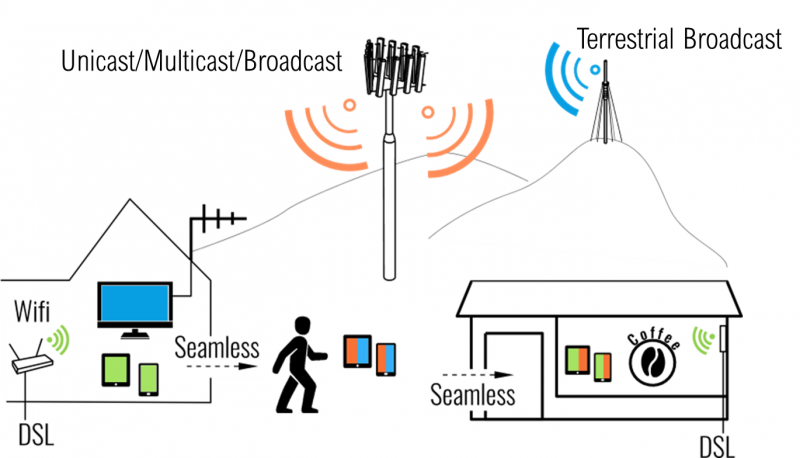 Booth #12 – SaT5G and 5G-Xcast joint demonstration
"Low latency mABR live streaming 5G-Xcast SaT5G demo" uses satellite multicast capabilities for the delivery of live channels. The use case demonstrates low latency with a mABR Live streaming and OTT Streams Synchronization. The demonstration is performed at the SaT5G booth. Partners: Broadpeak and University of Surrey (UNIS).

Workshops (Thursday 20 June 2019)
5G-Xcast will participate in the "International Workshop on 5G Architecture" held Thursday 20th of June, from 14:00-17:30 in room R8. As representation of the project, David Navratil (Nokia Bell Labs Finland) will present the Chapter 4 on Core & Transport Architecture and will participate in the subsequent panel session. 5G-Xcast project will also contribute to chapters 2, 3, 4, 6 and 7.
Papers (Thursday 20 June 2019)
In addition to the previous events, our partner Samsung Electronics R&D UK will present the paper "A Method to Tailor Broadcasting and Multicasting Transmission in 5G New Radio" during the ThD3 – Radio Access Techniques session, held Thursday, 20th of June from 16:00-17:30 in Room 3.
More information
The complete program can be found on the EuCNC webpage.
The event will be streamed live in the EuCNC official TV channel on Youtube.
To know more about details about our participation, stay tuned to the 5G-Xcast and EuCNC social media accounts: